This season has been a unique one for our individuals, including Mr. Eden Hazard. It was very subliminal to the sheer skill that can be achieved by (Eden) Hazard, which resonates with the fact that he can be one of the best players in his respective roles consistently.
He has great pace and playmaking prowess to be one of the most lethal and intimidating forwards the game has seen to date. Yet, this season has only retrieved frustration in every Chelsea fan's heart. The constant what if's echoed around a wasted match-day at the Bridge, with the constant dysfunctional understanding of what will happen in the next game; franchise and fans.
Figures and Statistics 15/16
As of last October, Eden had gone 1,035 Premier League minutes without a goal, his longest ever stint without making an attacking contribution, which has only epitomised his rapid declination since the start of the season, while his lack of contribution in Chelsea's attacking third has succumbed to his downfall in the starting XI – and only fuelling exit rumours away from London. Where did it all go wrong?
Hazard has just four assists to his name this season, while Willian, who has played less than the Belgian over the years, has outshone him this season. This contradictory rise and fall of both wings really initiates confusion to what possible reasons why Eden (Hazard) has made such a drastic plummet.
Hazard's Slump – (Stats via Opta)
The Belgian's most visible drop in form is in the final third, as Hazard is yet to find a goal in the league this season in twenty-six games, falling from 14 goals in 38 matches last season at a rate of one every 2.7 matches. Which is truly, a drastic downfall – and all Chelsea can certainly say they weren't expecting such failure. Essentially, we were expecting the rise of Eden's game, as he is only getting older.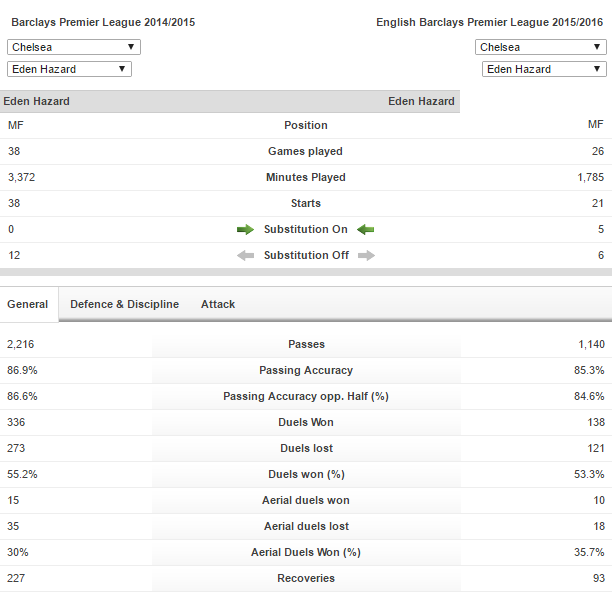 Summary
Did we make the right choices in the market? What is the issue here? Does Eden want to go? Questions which can only be re-iterated as the season prolongs. The constant anticipation and anti-climactic performances of Eden Hazard has only created an eerie atmosphere at the Bridge, and me, as a fan, believe as soon as we can get Eden going (possibly with Conte) the sooner us as a team, will create our rise, back to the top.