Yesterday was the 4-year anniversary of our huge victory in Munich. It was a game that has gone down in History and a game that every Chelsea fan will remember for the rest of their life. The players that played in that game are now completely spread around the globe, the only ones who still remain at the club are Gary Cahill and John Obi Mikel. Here is where the rest are now.
1. GK- Petr Cech
The hero-Petr Cech. Our goalkeeper saved two powerful penalties on that night in Munich. After a huge performance against Bayern Munich Cech continued to play for Chelsea for three more years- making him a Chelsea legend and one of the best keepers ever to put on the blue shirt. In 2015 Cech made a move across London to Arsenal where he is still playing and putting in some solid performances at the age of 34. Standing at 6ft 5 in the giant keeper has cemented himself as a Premier League great.
2. RB – Jose Bosingwa
Bosingwa left Chelsea soon after the Champions League final after his contract expired. In the 2012/13 season Bosingwa joined QPR where he played 23 games in a campaign which resulted in relegation for QPR. While at QPR Bosingwa made headlines after his attitude got him into trouble with the manager and Joey Barton! After they were relegated Bosingwa took off to Turkey where he joined Trabzonspor. Since 2013 Bosingwa has made 60 appearances in Turkey for his club. It's fair to say that his best days are behind him at the age of 33.
3. CB – David Luiz
The Charismatic Brazilian was a key player in the Champions League final- keeping a deadly Bayern attack from scoring more than one goal, and himself, scoring a penalty. Luiz carried on to play for Chelsea until 2014 when he left for Paris Saint German- who he has been playing for ever since. He has earned a large amount of caps for Brazil(55) and has won numerous trophies with PSG in France as their first-choice Centre Back.
4. CB – Gary Cahill
The current Chelsea player stepped into the CB role after Terry earned a suspension before the 2012 final. He had a commanding performance- keeping Robben, Ribery and more quiet. After his great performance and David Luiz's departure, Cahill stepped into the starting CB role and took it very well. He is still playing for Chelsea and has been one of their most consistent player's for the past 4 years- earning himself 41 England caps.
5. LB – Ashley Cole
A true Chelsea Legend- after the great Champions League victory, Cole stayed with the team for two more years, until 2014. After making 229 appearances for Chelsea over 8 years he left for Italy, to Roma. He struggled to make an impact in Italy and only made 11 appearances over two years. Now he is playing in the MLS with LA galaxy- effectively enjoying retirement. The Chelsea legend also made 107 appearances for England making him one of the best Full-Backs the country has ever seen.
6. LM/WB – Ryan Bertrand
Bertrand made his European Debut in the Champions League final in 2012- due to suspensions- and what a debut it was! Bertrand had a great game; even if he was played out of position. After the final his Chelsea career dwindled out after failing to make a huge impact after 3 years and often being mistreated by managers. In 2015 he left for Southampton where,the now 26 year old, has had a great season- and is in great contention for England's Euro's squad. He now seems to be developing into a great player.
7. CM – John Obi Mikel
Mikel has now established himself as one of Chelsea's greatest and most loyal players. Since a good performance in the Champions League final Mikel has stuck with Chelsea through thick and thin. The Nigerian is still at Chelsea and has made nearly 300 appearances for Chelsea over his 10 years at the bridge. The solid midfielder has also played in major international tournaments with Nigeria.
8. CM – Frank Lampard
Only a few words need to be said about Chelsea's poster boy and club legend. After the 2012 final Lampard went on to earn more than 100 appearances for Chelsea to make his appearances total for Chelsea add up to over 400. He also broke the Chelsea goal scoring record while he was at the club. He had become a National Hero and World Football legend. After the 2014 season and the World Cup, Lampard played a season at Manchester City and now currently, is playing in America with New York City.
9. CAM – Juan Mata
Juan Mata also continued to play for Chelsea for two more years- gathering 82 appearances for the club. Mata, who was a large fan favorite, became one of Chelsea's key players over their next few seasons. In the 2014 season he became out of favour under Mourinho and moved to Premier League rivals Manchester United- where he has yet again become a key player in a transitional period at the large club. He has been key in a number of Spanish victories at major tournaments.
10. RM – Saloman Kalou
The Ivory Coast International left Chelsea in 2012 soon after the Champions League final after six years at the club and 156 games. Often one of Chelsea's most underrated players during his time at the club, Kalou left for France where he was converted to a striker rather than a winger. At Lille he became a great goalscorer and scored 30 goals over two seasons in France. In 2014 Kalou moved to Hertha BSC in Germany where he helped the German team avoid relegation- here he has also been a good goalscorer- scoring 20 goals over two season. He is still currently playing for Hertha Berlin.
11. ST – Didier Drogba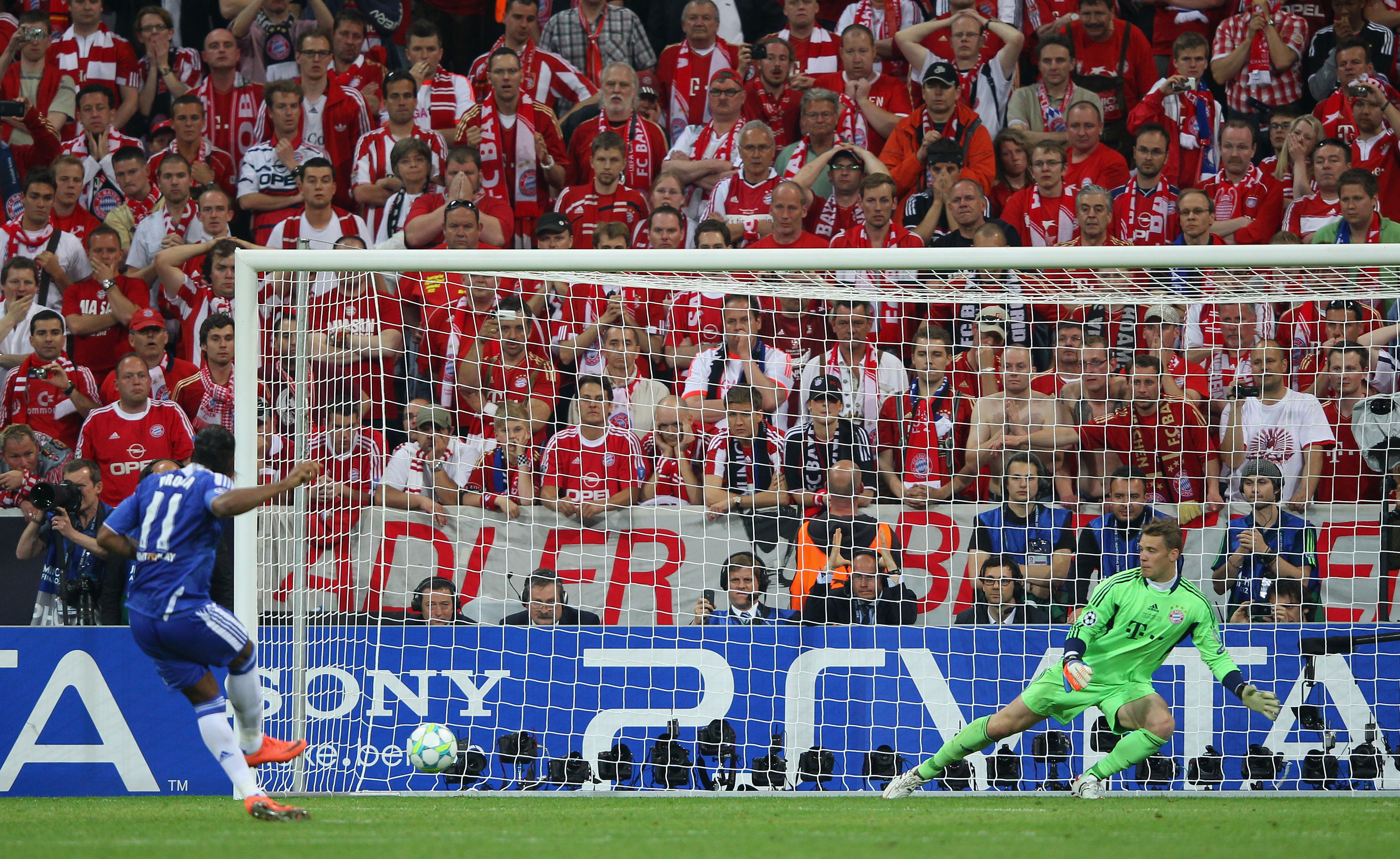 Drogba is undoubtedly one of  Chelsea's greatest ever Strikers. After scoring the winning penalty in a tense Champions League final- Drogba cemented his position as one of Chelsea's greatest ever. He left shortly after the Champions league final after becoming Chelsea's 4th highest scorer ever with 100 goals and earning a number of other individual records. He left for China for one season and then Turkey for another. During his time away from Chelsea he was always maintaining a consistent goals-scoring record. In 2014 Drogba returned to Chelsea and made a few Cameo appearances- he scored 4 goals that season. Now Drogba plays for Montreal in Canada aged 38.
12. SUB – Fernando Torres
Torres broke the British transfer record when he joined Chelsea. He was often critiscised at his time at the club- but scored some crucial goals, including in the Europa league final in 2013. In 2015, three years after the Champions League final, Torres moved permanently to AC Milan but was loaned out straightaway to his boyhood club Atletico Madrid. Currently he is still playing for Atletico and seems to be recovering his form after a disappointing few years. Since 2014 he has not played for Spain for but now at the age of 32 he is becoming a consistent goal-scorer again.
13. SUB – Florent Malouda 
Malouda left Chelsea soon after the Champions League final after 6 years at the club. In 2013 he was released by Chelsea and moved to the Turkish team Trabzonspor where he reunited with Bosingwa. He only spent one year in Turkey, after a year he returned to his home-country France. He signed for Metz where he managed to play for the whole season at the age of 34. Since 2014 Malouda has moved to various different countries, including India where he played under Roberto Carlos and Egypt where he is currently playing at the age of 35 for Wadi Degla.
14. Manager – Roberto Di Matteo
The manager during our Champions League victory was Di Matteo- a former Chelsea player. 8 months after his great victory Di Matteo was sacked by the club after a string of poor performances in the Champions League and Premier League. Di Matteo steered clear of management for the next two years.
However in 2014 Di Matteo took the job of manager with Schalke in Germany. At first he was successful in Germany, beating Real Madrid in a Champions League game. But after his first season it was clear that he hadn't achieved much and he resigned. Recently he has been linked with recently relegated club Aston Villa.