Did we witness a change in the team?
Cut me open and I bleed blue. Even when we won the league last season I do not think I had the same pride in my heart for my players as I did in that second half against Everton. When John Terry flicked that ball and it hit the back of the net, I cheered loudly and patted the badge of my shirt with pride. It is halves like the one we witnessed on Saturday afternoon that remind me why I love football, why I love Chelsea F.C.
Usually a draw at home is a poor day at the office for any Chelsea team, especially one that conceded 3 goals and left us 6 points away from relegation. I remember last season when we played Burnley at home and it ended 1-1, I was fuming, I spent the week going through the game in my head, analysing what went wrong. Yet now, less than 12 months later, I still find myself running the game through my head, but this time for a more positive reason, I enjoyed watching it.
The first thing that gets me excited is the continued revive in form of the old partnership of Costa and Fabregas. For a long time it looked like Fabregas had given up on performing and Costa was more into fighting the opposing centre halves, the goals at Everton to level at 2-2 showed that they still had that strong connection. It is looking likely that Diego is set to spend some time on the sidelines, I for one am hoping that once that is over, their partnership continues to improve.
The players showed a spirt that I hadn't seen this season, they wanted to win, and they were not going to accept defeat. It reminded me of last season and the Champions League run in 2012. It is this desire to win that I believe is a defining feature for Chelsea as a club, this season so far has been as if strangers just happened to be wearing the Chelsea kit, but yesterday showed me that they were still Chelsea players at heart.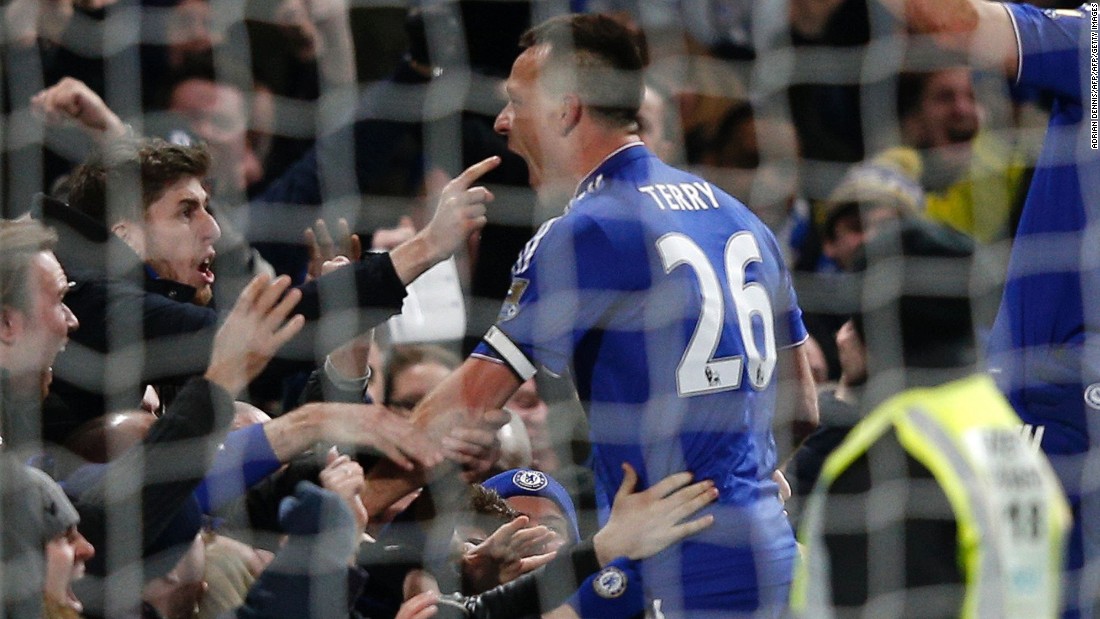 John Terry! A man who epitomises Chelsea football club and one who shows passion every week. While many players have come and gone over the last few years, John Terry has stuck around and given everything he has to this club. He loves the fans and the fans love him. He has made mistakes, we accept him for that. The passion he showed by, running into the crowed and celebrating with the fans on Saturday gave me Goosebumps that is the man we need leading our team! With signs of a new contract and talks of a future role in the club, John Terry is the role model that all future Chelsea players should aim to be.
While I was watching the game, the commentator reminded me of something, football is an entertainment. It's not all about the results, it's not all about the money or the trophies, it's about wether the fans and players are enjoying the game; I certainly did. Both teams played beautiful football, it was fast paced and intricate, I was on the edge of my seat for the whole 2nd half with my heart racing, I was hooked. That is how I want to feel every game!
Hiddink's faith in younger players also appears to be growing with each passing game. In the last 3 games Kennedy and Loftus-Cheek have both had a full 45 minutes run out, with both putting out respectable performances and the latter even getting on the scoresheet. While replacing Pedro with Kennedy seemed strange at the time as Pedro just seemed to be starting to threaten the Everton back four, Kennedy came on and played well. This is hopefully a good sign that those two player, and hopefully a few more, will have a good run of games over the remainder of the season.
While a 1-0 win like the same fixture last year would have been nice, I think that this is the game that the players needed, they needed to be shown that they have the ability to come back and play well, they needed to be shown that sometimes things can go right for them (the fact that the linesman missed John Terry being a good foot behind the next Everton player) it is games like this that can turn a season around.
With Hazard hopeful to return next week, the players need to continue that half final 30 minute performance and show Arsenal who the real Kings of London are.